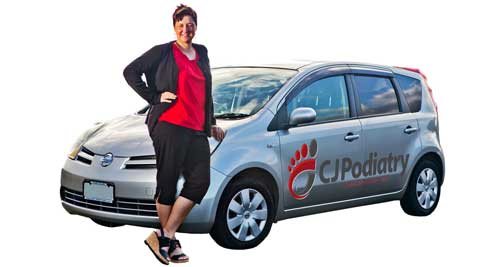 Home Visits
CJ Podiatry provides a professional and friendly Podiatry Service to mainly retired folk in their own home or residence.
This includes each customer receiving up to 40 minutes attention in a 'one on one' consultation where a history of their foot concerns are taken into consideration realising their current medications and health status. Carmen will arrive at your place with the appropriate equipment required to ensure a safe and clean foot and nail care service for you.
Give Carmen a call for your next podiatry appointment and she will come to you!
To organise a home visit, please get in touch with Carmen on: 021 607492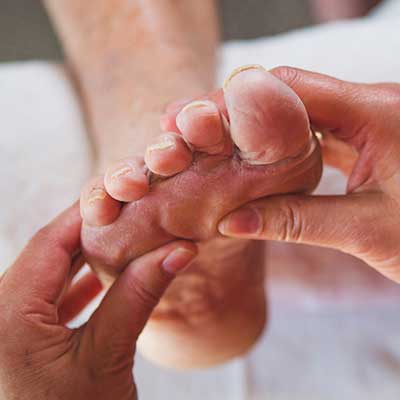 Rest Home and Retirement Village Podiatry Services
Nail care can become an issue as we age.
Very long and/or thick nails can cause problems for elderly folk who lack the flexibility or dexterity they once had. Failing eye sight with old age contributes to the hazard of trying to cut your own toenails. Slippers may be increasing a risk of a fall and can be the source of a painful foot. This is not good practice to stay mobile. We have Podiatrists who are experienced in working with the elderly in rest homes and retirement villages.
References are available upon request
Podiatry & Foot Care Services West Auckland
Fungus: Particularly discoloured or thick nails may be the result of a fungal nail infection which will be carefully assessed and a treatment plan discussed.
Corns & Calluses: Corns and callus formation on toes and feet can not only be a nuisance but can be the source of a painful foot.
Plantar Warts: Also known as verruca are the result of a viral infection. Sometimes these are sore but at other times just annoying. A diagnosis and treatment plan will be embarked upon if it is found that there is a wart on your foot.
Diabetes: A portion of the New Zealand population is affected by Diabetes. Our Podiatrists are skilled in performing assessments and helping you care for your feet if you have diabetes.
Footwear: Your footwear can be assessed at the time of consultation to ensure they do not contribute to any ongoing pain and are suitable for you. Our experience in selling footwear in shoe shops and training in the lower limb ensures that you will receive the best advice for your foot type.